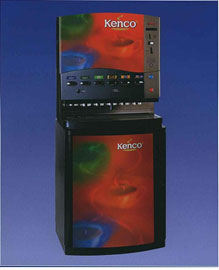 The Connection is one of the original members of the In-Cup family and is known for its reliability and efficiency. With a cup capacity of 275-330, it is ideal for the medium usage sites of 25-50 people.
Features & benefits:
• Extremely reliable, minimum maintenance and cleaning required.
• Vends 5 or 6 hot or hot and chilled drink options (dependant on model).
• Each cup holds the right quantity of ingredients for the perfect drink, giving consistent quality and portion control.
• Plumbed or manual fill.
• Integral sugar dispenser
• Multiple payment options (can be free vend or coin/token operated).
Equipment Specification
For detailed information please Click Here to download the equipment brochure pdf
Similar Coffee machines also available:
• Kenco Compact Coffee Machine
Coffee Machine Products Available:
• Kenco Incup Range