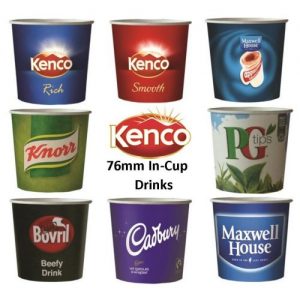 ALL PRODUCTS AVAILABLE IN OUR "SHOP" SECTION

Your favourite instant hot drinks in paper cups, perfect every time.
How do you serve quality instant hot drinks brewed to perfection? The answer is Kenco In-Cup range. Each branded paper cup contains the perfect measure of delicious drinks from a range of leading brands. Just add hot water and sugar to taste to mix the pre-dosed product – giving you convenient hot drinks instantly.
The secret is all in the cup.
Kencos complete In-Cup hot drinks range is simple, hygienic, easy to stock and low maintenance. With the right measure in every cup – just add hot water and sugar for a satisfying hot drink. With a great variety of quality branded coffee, tea (both available black or white) and hot chocolate, served in fully branded 7 oz paper cups, you can be sure your serving the perfect hot drink, time after time. Plus, with a range of In-Cup equipment options, supplied in partnership with leading vending machine manufacturers, Kenco offers the perfect solution for your business.
Excellent for: Offices, factories and reception areas, showrooms, and any public waiting areas.
To see the full product range please download the Incup brochure
Coffee Machines Suitable for Incup:
Kenco Connection Coffee Machine
Kenco Compact Coffee Machine