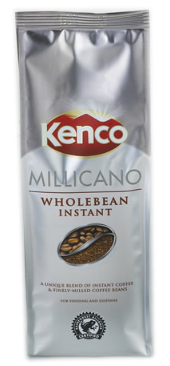 ALL PRODUCTS AVAILABLE IN OUR "SHOP" SECTION
Join the Revolution in instant coffee
Consumers are continuing to trade up in search of better quality and value for money experiences which are ultimately more rewarding. 69% of caterers agreed that customers are prepared to pay more for a better tasting coffee*
Whole Bean Whole Taste
Leading the revolution in convenient coffee, Kenco Millicano is the first Whole bean Instant from Kenco. It contains a blend of instant coffee and 15% finely milled coffee beans for a smooth, full bodied taste and rich aroma reminiscent of roast and ground coffee.
It therefore delivers the quality cues suggestive of a bean to cup offering with the operational efficiency and reliability of an instant solution.
Great tasting drinks made easy….in one stylish bundle
The product is available in a 300g vending bag, and is supported by branded cups and Point of Sale material. This means you can now provide a proper coffee experience at a fraction of the cost of a traditional bean to cup solution.
Kenco Millicano is excellent for: Premium workplace, Mid-range hospitality and Leisure locations. Suitable for tabletop and freestanding machines.