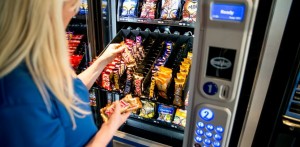 Equipment
It is vitally important to ensure that the equipment we install will meet individual site requirements such as space limitations, speed of delivery, capacity, ease of use, and reliability. Our  team have many years of industry experience upon which to base their recommendations in order that you will be entirely satisfied with your machines
Product selection
Whatever your tastes and budget, we aim to have a product selection to suit you. Choose from a range of coffee systems, vending quality in-cup drinks, or delicious latte, cappuccino and espresso. Unlike some vending companies, we only offer branded ingredients, including Kenco, Cadbury and PG to ensure quality in every cup.We offer an extensive range of branded snacks and drinks.  Each site has its own plannogram, which is "optimised" to suit the buying patterns, ensuring that the most popular lines do not sell out in between our visits.
Site visit intervals
We use various strategies to match our visits to the demands of each machine. For sites where demand fluctuates, our vending operators and office team regularly discuss clients' needs with them.  As a family-owned regional business we offer a greater level of flexibility than some of our larger competitors.
Support
We understand that there is nothing more frustrating than a faulty vending machine. We regularly train our vending operators on repairing faults, and where possible, we carry out proactive work to prevent breakdowns. ASW Vending prides itself in attending most fault calls within 8 hours of being reported to our office.
Price
We believe in clear pricing and value for money.  Whether you prefer to buy, lease or rent equipment, we can provide a package to suit your requirements. A range of refurbished equipment offers a cost effective solution.  Our snacks and drinks prices are maintained at current market pricing, which we achieve through competitive purchasing.
All businesses are different, and we would not expect to have a 'one size, fits all' approach to pigeon hole your business.  We will come up with a tailor made solution for you.