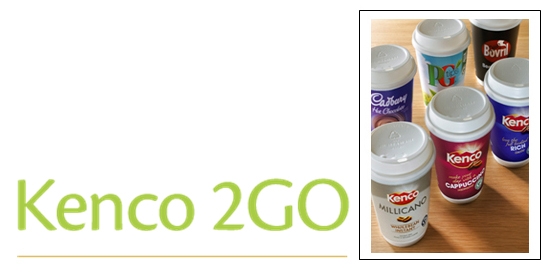 Every cup delivers a consistent quality hot drink.
Kenco 2GO makes it easy to serve quality instant hot drinks anywhere you have access to hot water. Each cup contains the perfect measure of product for a variety of favourite drinks, foil-sealed into the base for maximum freshness. To serve, the foil seal is peeled off and hot water is added making it quick & easy to serve delicious hot drinks in the shortest time possible.
Great tasting drink on the go …
Kenco 2GO includes a range of high quality, branded hot drinks from rich roast coffee to refreshing leaf teas. Cups are attractive and durable, with sip lids to keep drinks hot and make them easy to enjoy on the go. The range includes big brands that consumers love Kenco Millicano, the very first Wholebean Instant coffee from Kenco and delicious tasting Cadbury Hot Chocolate drink.
Excellent for: Travel locations where convenient hot drinks are needed and venues such as stadiums.